Terror threat risk forces Kings Heath Street Festival move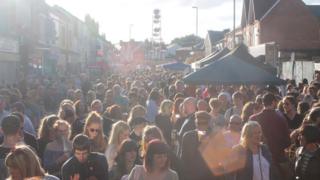 Security changes due to potential terror attacks have forced a street festival in Birmingham to be relocated.
About 20,000 people attend Kings Heath Street Festival, which is in its fourth year, and usually held on York Road and Heathfield Road.
Organisers said increased security measures "make it difficult to do major events on roads" and it would be moved to a nearby car park.
Police said advice given was "not based on new or emerging intelligence".
Kings Heath Business Improvement District (BID), which organises and funds the event, said this year's festival on 10 September would now be held on The Parade car park on High Street.
'Difficult decision'
Martin Mullaney, the BID's town centre manager, said: "This was a difficult decision for the board, since we know how popular the event has been.
"Unfortunately, with the current terrorist situation, the security measures that we now need to put in place make it difficult to do major events on roads like York Road and Heathfield Road."
At its new location, on the council car park and land in front of the former Kingsway cinema, there will be concrete bollards and mesh fencing, he said.
Visitors will also be subjected to bag searches.
In a statement West Midlands Police said: "Police are regularly asked to discuss and review planned events in the area with organisers, which will include advice around safety measures.
"The advice given is not based on any new or emerging intelligence. The security threat level nationally remains unchanged at severe meaning an attack is highly likely.
"We work tirelessly to counter terrorism. Our absolute priority is to ensure the safety and security of the people who live, work and visit the West Midlands area."