Man dies after being stabbed outside Birmingham pub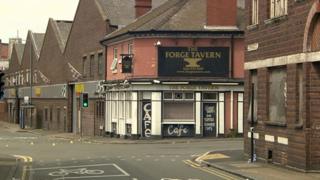 A man has been stabbed to death outside a pub in Birmingham, police said.
Another man was injured and remains in hospital after the disturbance outside the Forge Tavern in Digbeth in the early hours of Saturday morning.
The two men in their twenties were stabbed and driven to hospital at about 04:30 BST.
West Midlands Police has launched a murder investigation after one man died from his injuries shortly after arriving at hospital.
Police are appealing for anyone who may have been at the Forge Tavern last night or early this morning and who may have seen what happened leading up to the attack to come forward.