Daniel Baird: Birmingham pub stabbing victim named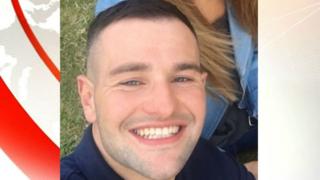 The man who died after two men were stabbed outside a pub has been named as Daniel Baird.
The 26-year-old from Birmingham was fatally stabbed at about 04:30 BST on Saturday outside The Forge Tavern in Digbeth.
A second stabbed man is still being treated in hospital.
The men were stabbed after a "substantial disorder" at the pub, Police have said, where they believe 60-100 people were in attendance.
West Midlands Police believe other people may also have been injured during the incident.
Det Insp Harry Harrison said: "We know the incident started inside the Forge Tavern and have established that a substantial disorder took place at the location which culminated sadly in the death of Daniel.
"We believe between 60-100 people were at the pub at the time, some of which were armed with a variety of weapons."
He said: "The vast majority of people will have been innocent bystanders and must be truly shocked at what happened this weekend.
"Some may also have been injured during the incident and at this time haven't reported it to us."
Police are appealing for anyone at the pub at the time of the incident to come forward.