Shropshire council fraudster to pay back authority £14,000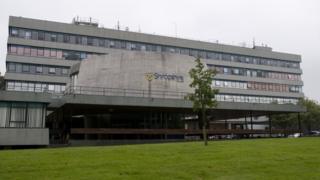 A woman who defrauded former employer Shropshire Council is to repay the authority £14,000 - from her pension.
Penelope Wilkinson, previously known as Rian Huxley, was sentenced on Wednesday to 12 months in jail - suspended for two years - and told to do 150 hours of unpaid community work.
Wilkinson had pleaded guilty at Shrewsbury Crown Court to making invoices for a printing firm against which she claimed cash.
She worked for council subsidiary IP&E.
The company - for which she worked as a marketing manager - has since been closed down by the authority.
See more stories from Shropshire here
In 2015 money was found to have been going missing. Invoices from a printing company that had been paid in cash were uncovered, which raised suspicions.
While it was a company IP&E used, it was never paid using that method.
Wilkinson, 43, from Sandbach, Cheshire, had been creating the invoices herself and then keeping money withdrawn from the IP&E account to pay for them.
Clive Wright, chief executive of Shropshire Council, said that the authority was saddened a former colleague breached the trust placed in her.
The court sanctioned an agreement with Wilkinson's former employer to pay back the money from her council pension fund.