Aldridge stabbing: Arrests made in James Brindley case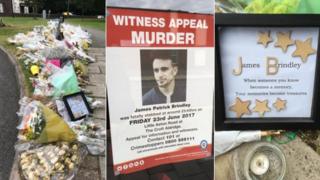 Two people have been arrested on suspicion of murder after a man was stabbed to death on his way home from an evening out with friends.
A man aged 20 and a 17-year-old boy are being held following the stabbing of James Brindley, 26, in Aldridge High Street, West Midlands, on 23 June.
Mr Brindley died despite attempts by four schoolboys who rushed over to him to give first aid.
The arrests were made on Wednesday evening.
Read more news for Birmingham and the Black Country
Det Ch Insp Chris Mallett, from the West Midlands Police homicide team, said: "Although we have made two arrests we are still asking people to come forward with any information they have, no matter how insignificant it may seem."
Mr Brindley, described by his parents as "a very straightforward and trusting person", was stabbed in the heart.