MP Eleanor Smith denies calling Black Country flag racist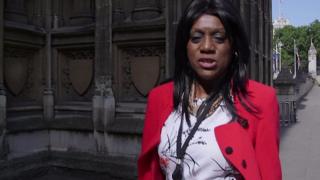 An MP who said the image of chains on the Black Country flag made her "uneasy" because of their links to the slave trade has defended her comments.
The Express and Star reported Labour MP Eleanor Smith called for the flag to be scrapped over its "offensive" imagery.
On Twitter, the Wolverhampton South West MP denied describing it as racist or calling for it to be banned.
But many on social media criticised her and defended the flag's chain image, designed by a 14-year-old schoolgirl.
A statement issued by the MP's local Momentum group called for the withdrawal of the flag.
It was widely flown in the area on Friday 14 July, to celebrate Black Country Day.
Ms Smith said she had not appeared on a photo with other Black Country MPs holding the flag "due to parliamentary commitments".
In her statement on Twitter about her newspaper interview, Ms Smith wrote: "I talked about some concerns which had been raised by my constituents about the flag - specifically the image of a chain, because of their historical use in the Slave Trade.
"I went on to say that I was uneasy about this image becoming the brand for the Black Country, on the grounds that it associates the Black Country with heritage industries, rather than modern ones."
The first written reference to the Black Country as a place name came in an 1868 book.
It was known as "black by day and red by night" due to the smoke and glowing furnaces; and this inspired the colours of the Black Country flag.
The flag was raised in Dudley for the first time in January 2014 after a competition won by Gracie Sheppard, 14, from Stourbridge.
In reply to the MP's tweet, Neil Stevens posted: "I think you're underestimating how proud the people of the Black Country are about our heritage. Our past informs our future."
While Craig Jones wrote: "Flags are not usually created or updated to reflect the modern age. They are usually based upon significant importance."