Daniel Baird: Family tribute to man stabbed outside pub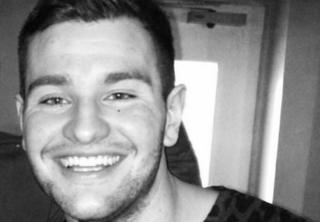 The family of a murder victim stabbed after a brawl near a Birmingham pub have described him as "caring and fun".
Police believe up to 12 people were involved in disorder before Daniel Baird, 26, was stabbed near The Forge Tavern in Digbeth early on 8 July.
Appealing for information, his sister Kerry Sheehan, 29, said Mr Baird "would never go looking for trouble".
Relatives revealed he had been looking forward to starting a new job at Land Rover's Solihull factory this week.
Read more news for Birmingham and the Black Country
Ms Sheehan, another sister Holly Baird, 24, and brother Tom Baird, 32, urged witnesses who may be protecting the killer to examine their consciences and help police secure justice.
Tom Baird told reporters his brother was "in the wrong place at the wrong time" and had only gone to the pub because it was still open in the early hours.
Issuing an appeal for information from up to 100 people thought to have been in the pub, he added: "I think a lot of people will know something - they may be too scared to come forward."
Ms Sheehan said: "Dan was out having fun and would never go looking for trouble.
"We need everyone there to come forward... You have got to put yourselves in our shoes.
"Dan was the most loving, caring person you could ever meet. You have got to try and think how we are feeling."
The victim's partner Gemma Morris issued a statement describing him as a "loveable" and "loyal".
Miss Morris said: "Dan was everything to me.
"He was my world, I will never be able to move on from this.
"So please come forward as we all need justice for Dan."