Bin row: Why did refuse workers strike in Birmingham?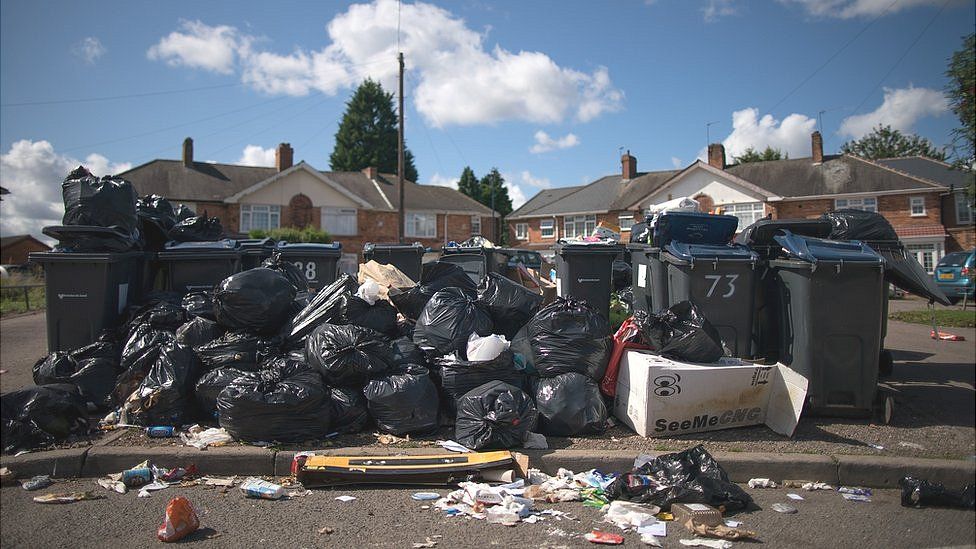 Bin workers have suspended strike action in Birmingham, which had taken place due to a dispute with the city council over job losses.
But why have workers been striking - and what did the council have to say? The BBC looks at key questions around the row.
Why did bin workers go on strike?
Workers were on strike due to a dispute over job losses. The Unite union claims restructuring plans threaten the jobs of more than 120 staff, while the council says plans will modernise the service and save £5m a year.
What has the strike action involved?
A range of different stoppages.
From 11 August, three-hour stoppages were spaced across the shift, taking place at 07.00, 10.30 and 13.30.
Previously, workers had taken a two-hour stoppage from 06:00-08:00 and a one-hour stoppage between 12:30-13:30.
There was also an overtime ban in place and workers returned to depots for all lunch and tea breaks.
Why does the council want to make changes?
Essentially, it's all about saving money. The council says it faces "significant financial challenges" and needs a "high-quality, value-for-money and reliable refuse service".
Due to government funding cuts, the authority says spending on waste management has reduced from £71m in 2011 to £65m in 2017, and it says if it does nothing the overspend will be £5.2m in future years.
It also says that compared to other councils, Birmingham is not meeting national productivity levels and it needs to improve. Failing to improve productivity and efficiency is "not an option", the authority says.
The council had said the 113 posts being "deleted" were "leading hand roles", or supervisory roles for those workers out with bin crews.
It said despite the posts going, all workers with an appropriate skills match would be offered new council jobs at the same pay grade.
The authority is also proposing changes to the current working pattern for waste collection crews - changing from a four-day week of just over nine hours a day, to a five-day week of just over seven hours a day.
On 16 August strike action was suspended with the city council provisionally agreeing certain posts would not be made redundant and collections resumed.
Union officials said in return they would recommend staff considered accepting rota changes.
However, on 31 August the council said it was issuing redundancy notices to certain grade three workers "in order to protect its legal and financial position".
This prompted strike action to resume on 1 September.
On 20 September strike action was suspended after the High Court granted an interim injunction against the council's bid to make workers redundant.
A trial to determine if the council acted unlawfully in issuing redundancy notices will now take place in November.
Why is it taking so long to resolve?
Before the strike was suspended on 16 August, both sides had struggled come to an agreement - and talks broke down.
At that time the council maintained there were no job losses as a result of the changes and said no redundancy notices had been issued.
Before the Acas agreement was reached, Unite said the authority was "more interested in 'conflict' than finding a negotiated settlement to an ongoing dispute".
It said its attempts to negotiate a settlement had been thwarted by council bosses who had withdrawn from planned talks and started issuing redundancy notices to workers.
The union said it was left with "little option" but to step up its industrial action, which led to a series of further action.
However, following the council's decision to issue redundancy notices, Unite warned that action could continue until the end of 2017.
What have residents been told to do about it?
People were also asked reduce the amount of waste they put in their bins and told to use the council's recycling centres if they wanted to get rid of their rubbish sooner.
Why did the leader of the council quit over the dispute?
After workers had been on strike for seven weeks, Mr Clancy struck a deal with them saying no jobs would be lost and the action was suspended.
But two weeks later a council report said the deal was "unaffordable", and redundancy notices were issued - sending workers back to the picket lines.
Mr Clancy said a deal had never been fully agreed with the union, but days later resigned from his position saying he accepted he had made mistakes "for which he is sorry" and took "full responsibility".
Unite took the council to the High Court, claiming the move to make workers redundant was unlawful.
A judge granted an interim injunction against the council's actions and Unite suspended the strike immediately.
A trial will now take place in November to determine if the council has acted against the law - but Mr Justice Fraser urged all parties to come to an agreement before the prospect of an expensive court case.
Related Internet Links
The BBC is not responsible for the content of external sites.