Hall Green greyhound stadium closes after 90 years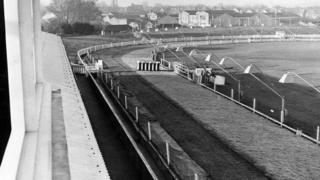 A greyhound stadium is closing after 90 years to make way for new housing.
The last meet at Hall Green Greyhound Stadium, which opened in 1927, takes place later.
Planning permission has been granted to Euro Property Investments to demolish the stadium and a 48-bedroom hotel and replace them with up to 210 new houses.
Manager Chris Black said he and up to 15 staff were being made redundant, while others such as owners and trainers would also be affected.
"There's so many other people connected to the stadium who will have to find somewhere else to go," he said.
The stadium has suffered declining crowds over the years as people increasingly find new ways to spend their leisure time, said Mr Black.
"With football and Netflix and things, there's a lot more for people to do these days.
"[The housing plans] have been in the pipeline for a few years and the former manager Stephen Rea campaigned really hard to save the stadium so we hoped it would be overturned.
"It's been a big part of my life. I've worked here for around 15 to 16 years in total. I started as a waiter and have pretty much done every job. My wife Clair works here too."