Matthew Boulton College fails fire safety test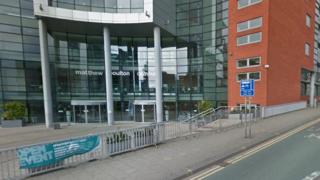 A Birmingham college says it has failed a new, stricter fire safety test staged following the Grenfell Tower disaster.
Matthew Boulton College said a cladding test result "has determined it was not of limited combustibility".
However, it said the fire service was satisfied it has "appropriate" safety measures to mitigate risks from fire.
Ministers said 82 buildings had failed a new fire safety test, which examines the safety of building cladding and insulation in combination.
It comes as an independent review of building regulations and fire safety has also been announced by the government.
It will look at current building regulations and fire safety, focusing on high-rise residential buildings.
Matthew Boulton College, part of Birmingham Metropolitan College (BMet), said a sample of cladding from a building had been tested.
In a statement, it said: "The fire and rescue service has already conducted a precautionary fire safety check of the college.
"They are satisfied that the college has in place appropriate fire safety measures to mitigate the risks from fire and the college has declared the building safe for continued use."
The college said it was "extremely well prepared" in the event of a fire.
It said: "We appreciate that the result of the screening process may raise concerns from staff, students, parents, and the wider community."
The fire at Grenfell Tower block on 14 June in North Kensington, London, killed at least 80 people.