'Mayhem' as driver smashes into wall in Stechford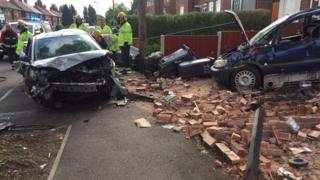 A speeding motorist lost control of his car and smashed into another vehicle, demolishing a wall and throwing debris and wheelie bins into the street.
Fire crews said he had been drinking and fled the scene in Stechford, Birmingham, at about 08:30 BST.
A man in his 30s, believed to be the driver, was found nearby and taken to hospital with minor injuries, West Midlands Police said.
No-one else was injured in the crash on Wyndhurst Road.
'What have you done?'
Sheldon Fire Station tweeted: "Drink driving. Car travelling at high speed... lost control causing mayhem".
Homeowner Amir Hussain said he heard a "big bang" outside and went outside to see his car had been smashed into.
"They came down very, very fast and hit a fence, my neighbour's both walls and then my car and hit a pole," he said.
"Three guys came out and one was injured and bleeding from his head.... I said 'what have you done?' and they said nothing to me and ran away."
He said his children were shaking and crying.
Another neighbour said he saw a man being stretchered away by paramedics shortly after the crash.