'Rubbish collection protest' blocks Birmingham road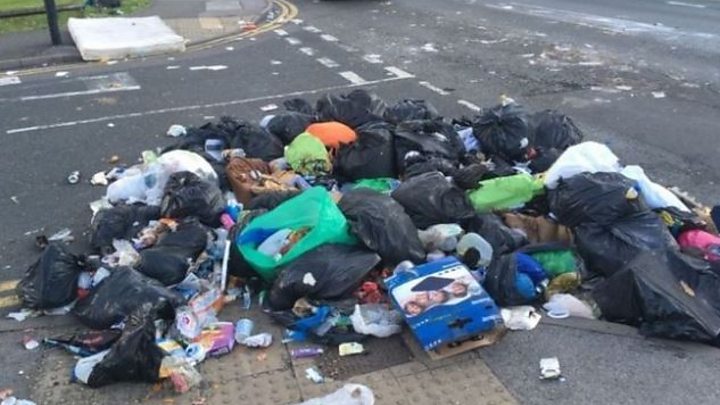 A road was blocked with rubbish in an apparent protest against bins going uncollected for three weeks.
Traffic was unable to get along the road in Birmingham and one eyewitness reported seeing up to 100 youths throwing bin bags around.
Bins in Winson Green Road had not been emptied in three weeks, residents said.
Birmingham's seven-week refuse collection strike was suspended last week when the council said it had a plan in action to collect the backlog.
Read more news for Birmingham and the Black Country
The bags were left in Winson Green Road where it meets the junction of Aberdeen Street and Bryant Street.
One resident said it happened at about 17:00 BST with people piling bin bags into the middle of the road.
BBC WM reporter Daz Hale said when he visited the scene on Friday morning most of the bin bags had been shunted on to the side of the roads but many had split open and left "glass everywhere".
One resident, Sharese, said: "It needed to be done... because if we didn't pay council tax for three weeks, what would happen?
"[We'd] be taken to court, wouldn't we? So why aren't our bins picked up for over three weeks?"
Cleaning up was taking place on Friday in the area.
On Thursday, a report to the city council warned the deal that ended the bin strike was unaffordable.
The council report said giving ground on workers' demands was not financially viable.
The dispute centred on a restructuring plan that Unite claimed threatened the jobs of more than 120 refuse collectors. The council insists it will modernise the service and save £5m a year.
West Midlands Police said it was called to Bryant Street to reports of rubbish being thrown in the middle of the road.
Residents started removing rubbish after 17:00 BST.