'Brilliant student' Brian White can defer Oxford place amid deportation fear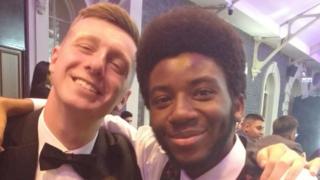 The University of Oxford has confirmed a "brilliant student" from the West Midlands, whose British citizenship status is pending, can defer his place.
Brian White, 21, from Wolverhampton, moved to the UK from Botswana aged 15 with his adoptive British family. The Home Office rejected an application for him to become a British citizen at 18.
A petition highlighting his battle has attracted more than 80,000 signatures.
Mr White said he had already deferred his university place once from 2016.
He said he was unable to take up his place to study chemistry at Oxford in 2016 after being deemed ineligible to receive student finance.
The university said Mr White was a "brilliant student" and confirmed his place would be available whenever he was able to take it up.
He now risks missing the start of his degree course because his application to stay in the UK has not been processed by the Home Office.
Read more news for Birmingham and the Black Country
It said it had contacted him to reassure him it was "looking to resolve his application as soon as possible".
A spokesperson added it understood the "urgency" of his case.
Mr White lived in a Zimbabwean orphanage until the age of six. He was fostered and later adopted by the White family, who moved to Botswana and later returned to the UK.
In 2014, his application to become a British citizen by naturalisation was rejected as when he arrived in the UK, he was granted limited leave to remain by the Home Office, rather than indefinite leave which is required.
The family appealed, but that was also rejected. He is now awaiting the decision of a current application.