Man held after firefighters threatened with fake gun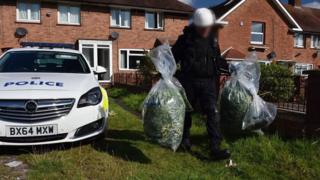 A man was detained by police after threatening firefighters with a fake gun.
The crew was dealing with a fire in a suspected cannabis factory in Weoley Castle, Birmingham.
Smoke had been seen coming from an electricity supply box where power had been diverted to a nearby house.
As firefighters tackled the fire, a man pointed what appeared to be a handgun at two of them. It was later confirmed as a fake weapon.
A 20-year-old was given a caution after being held on suspicion of possessing an imitation firearm.
Lee Baker, station commander at Northfield fire station, said: "Any threat to, or attack upon, our crews is one too many and will not be tolerated."
West Midlands Fire Service said it had emerged the man had learning difficulties and he and his family were being offered support.