Rioting prisoners 'threw TVs' in HMP Birmingham disorder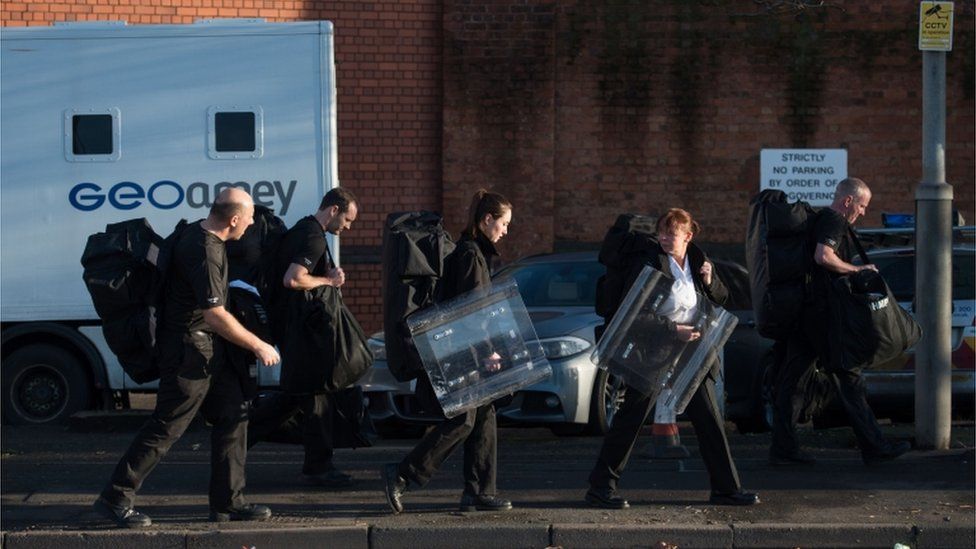 Prisoners stripped, wielded table legs and threw TVs out of windows during a riot at HMP Birmingham, a court heard.
Prison officer Marie Curran told Birmingham Crown Court staff were "panicked" as disorder escalated on 16 December 2016 when she was working on N wing.
She is the first witness to give evidence in the trial of four inmates who deny taking part in prison mutiny.
During the riot, a prisoner smashed smoke detectors and lights, she said.
On Monday, the trial heard stolen keys were used to free 500 prisoners from cells during the 15-hour disturbance.
Miss Curran said the theft led to a "mad rush" to evacuate the block.
She said: "It was just hectic. You could just hear shouting [from the prisoners] - the noise level on the wing just kept increasing and increasing.
"There were trays, TVs, paper, food - things being thrown out of the window and then a short time after that there was smoke coming out of one of the windows on level two."
She said "everybody was panicked".
The court heard how the disorder began when two inmates got on safety netting on the fourth floor.
Miss Curran said: "They were all shouting, running from one end of the netting to the other. It was as if they were warming up.
"They were armed with table legs - some metal, some wooden - and they started to take off their T-shirts and were waving the weapons around."
On trial are John Burton, 39; Luke Mansell, 24; Carl Brookes, 33; and Ross Queen, 30.
Mr Brookes and Mr Queen also deny a count of failing to submit to lawful authority during the disorder.
Related Internet Links
The BBC is not responsible for the content of external sites.