Kingsley Burrell trial: Police officers 'lied repeatedly'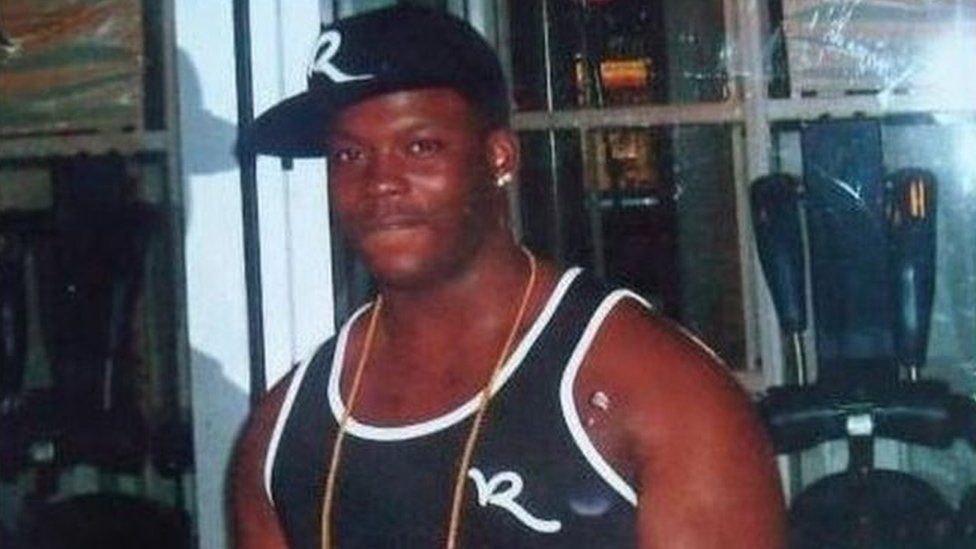 Three police officers told repeated lies about a cloth being placed over the head of a mental health patient who later died, a court has heard.
Kingsley Burrell died aged 29, four days after being detained by police.
Jurors heard the men may have "put their heads together" and agreed to lie after the death in March 2011.
Paul Adey, 36, Mark Fannon, 45, and Paul Greenfield, 50, are on trial at Birmingham Crown Court, and deny charges of perjury.
The court heard numerous witnesses saw Mr Burrell's head or face covered with either a towel, sheet or blanket when he was placed in a seclusion room at the city's Oleaster mental health unit.
CCTV footage presented in court showed Mr Burrell, who died from brain damage following prolonged restraint in March 2011, with a white head covering as he was led out of an A&E ward.
Prosecutor Michael Burrows QC alleged the three officers, who are also charged with perverting the course of justice by giving statements they knew to be false, lied at an inquest in 2015 by claiming not to have seen anything covering Mr Burrell's face.
He told the court: "Quite simply, we say that these police officers have lied in their accounts about that."
The 29-year-old father-of-three, had been transferred from Mary Seacole House, a mental health unit in the Winson Green area, to Birmingham's Queen Elizabeth Hospital on 30 March 2011.
The barrister told the court the three defendants were among four officers tasked with transferring Mr Burrell, who had cut his head on a wall, after he threatened to stab mental health workers with a toothbrush.
Mr Burrows added: "All we set out to prove is that they lied about this matter and they have each lied about it in their accounts given, firstly during the course of the investigation and secondly in their sworn evidence at the inquest."
Related Internet Links
The BBC is not responsible for the content of external sites.