Man shot 'in cold-blooded killing' in Birmingham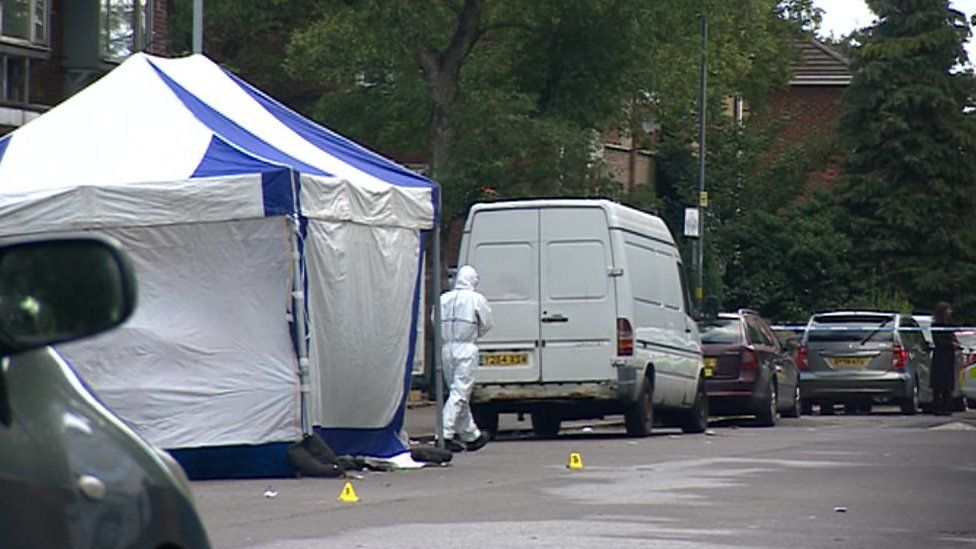 A man has been shot dead in what police described as a "shocking and cold-blooded killing".
The 34-year-old was shot in Great Hampton Row, Hockley, Birmingham, on Wednesday evening. He was taken to hospital but died a short time later.
Great Hampton Row remained cordoned off on Thursday as investigations continue.
It is the latest in a series of shootings in the city, with West Midlands Police recording 132 incidents of shots being fired since January.
The man has been identified but is not being named at this stage. Any witnesses are asked to come forward.
Community campaigner Desmond Jaddoo said he had visited the scene and spoken to residents, who said they were living in fear.
"There have been three incidents here in the last two weeks - shots were fired, someone got stabbed and now we have this tragedy where someone has lost their life.
"We need to take urgent action to limit the body count.
"People are fearing for their families - they said their children could have been going to the shop at the time when the shooting happened.
"One woman who lives locally told me today 'I've got children, I need to get away from here'."
Det Supt Richard Agar acknowledged there had been a rise in gun crime at both local and national levels and an increase in violent crime.
"We are working really hard with communities and with our partners to try and reduce that," he said.
Asked if he was aware of other incidents in the area he said he was but that it would be wrong to comment on them at this time.
Police are searching through CCTV footage in the area, and forensic experts are at the scene.
Related Internet Links
The BBC is not responsible for the content of external sites.