Birmingham bin strike: Halted recycling costs council £300k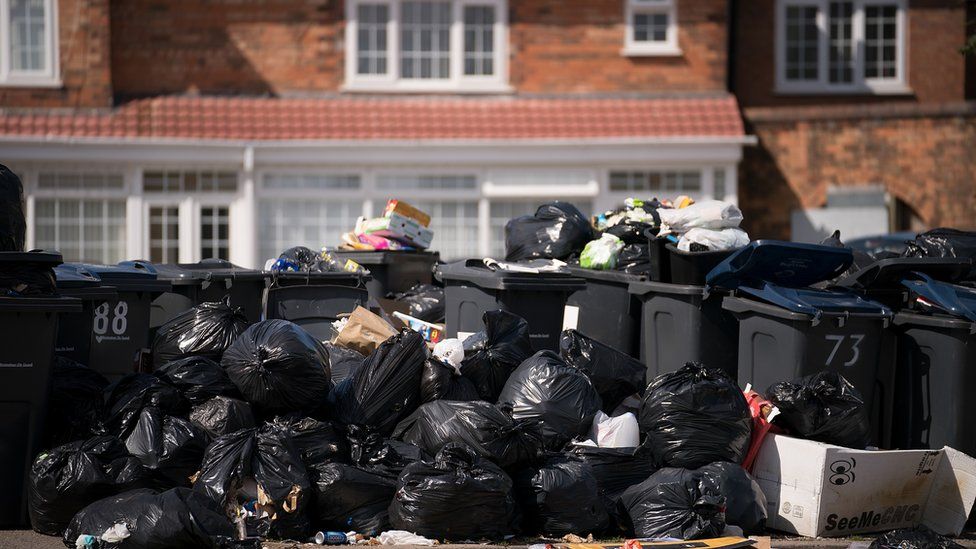 The failure to recycle waste during Birmingham's bin strike has cost the city council £300,000 in lost income so far.
The authority has been collecting all waste together to clear the streets as rubbish continues to mount up.
Earlier this week, John Clancy resigned as council leader following criticism over his handling of the dispute.
On Monday, refuse workers return to the High Court claiming the council has acted illegally during negotiations.
Since then, it has employed agency crews to clear the backlog, visiting each of the city's wards once every four weeks.
Councillor Lisa Trickett said the council collected 697 tonnes of paper and cardboard from July 1 to August 27 this year - compared to 3,853 tonnes during the same period in 2016.
The authority is paid £95 per tonne for the paper, making the total estimated loss £299,823.
Councillor Alex Yip described it as a "ridiculous situation" and said the failure to recycle was having a "substantial impact on the city".
In response, Councillor Ian Ward, interim leader of Birmingham City Council, said: "The current dispute is not in the interests of the council or the residents of the city of Birmingham, and what we all have to do is resolve that dispute."
Birmingham already has one of the lowest rates of recycling in England, coming 341st out of 351 authorities.
The city council has already revealed it is costing £300,000 a week in contingency plans as the strike continues.
Related Internet Links
The BBC is not responsible for the content of external sites.