Birmingham bin strike: Workers hold rally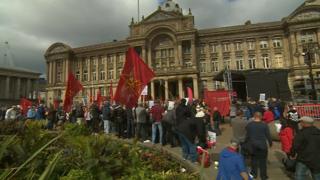 Striking bin workers in Birmingham have held a rally calling on the city council to resolve the long-running dispute over job cuts.
Hundreds of people gathered outside the council's headquarters in Victoria Square holding banners and singing protest songs.
Workers have been on strike for 80 days as the council looks to cut 100 jobs.
On Monday, refuse workers will return to the High Court to claim the council acted illegally during negotiations.
Why are city refuse workers on strike?
Workers began their strike on 30 June after the authority announced redundancies and changes to working patterns.
Unite general secretary Len McCluskey told the crowd: "I am more than confident that the solidarity that is shown here in Birmingham and right across our nation will secure the victory that we are looking for."
Unite convener Richard Beddows, who is also a driver team leader, said his colleagues were "extremely annoyed".
"We are binmen and we are proud," he said. "We just want to get back to work and give the residents of Birmingham a good service."
John Dale said he had come from Mansfield in Nottinghamshire to support all public sector workers.
"It's terrible that people have got rubbish piling up but there shouldn't be any cuts in our services," he said.
The council is employing agency crews to clear the backlog of rubbish, visiting each of the city's wards once every four weeks.
The failure to recycle waste during Birmingham's bin strike has cost the city council £300,000 in lost income so far.
John Clancy resigned as council leader following criticism over his handling of the dispute.