Stourbridge stabbings: Lydia Wilkinson 'feared triple funeral'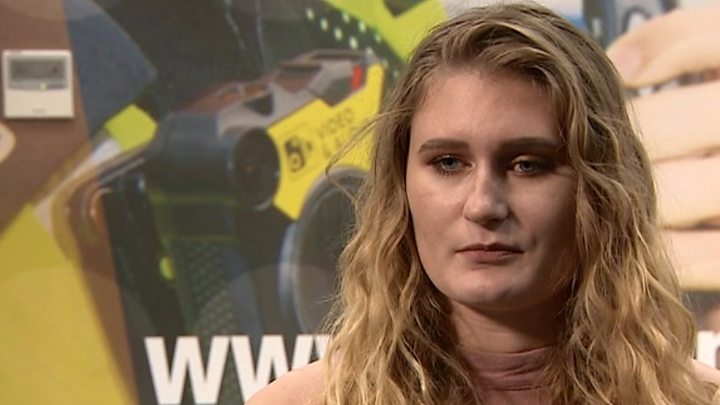 Lydia Wilkinson was in another county when she found out her whole family had been stabbed in a "frenzied" knife attack.
The 19-year-old Bristol university student was in halls when her boyfriend called her about a stabbing in her hometown of Stourbridge, West Midlands.
Unknown to Lydia, Aaron Barley, a 24-year-old homeless man who had been taken in by the Wilkinsons, had armed himself with a knife and entered her family's home.
"I remember typing into Google 'Stourbridge, stabbings," she said.
"And the first link showed a photo of my house with police tape around it. I remember ringing him [my boyfriend] back and saying 'It's me, it's us, they've been stabbed'."
Lydia did not yet know Barley had killed her 13-year-old brother Pierce, and her mother, Tracey. Her father, Peter, was gravely wounded in the attack.
Shaken by what she had seen online, Lydia went into a friend's room, where she called the police. Her friend took her phone while they waited for officers to arrive.
"West Midlands [Police] got to me and asked what I knew - I said just that they have all been stabbed," she said.
"They said 'we are very sorry to tell you that your mum and brother have passed away and your dad is in theatre and we don't know whether he will survive or not, we have had no news'."
Lydia, a first-year biology undergraduate, was set to return to the family home a day after the attack on 30 March.
She had promised to meet Pierce at his school gates, and was looking forward to going dress shopping with her mum, she said.
Instead, she found herself rushing to the Queen Elizabeth Hospital in Birmingham, unaware if her father had survived.
"I remember coming back in the car from Bristol," she said. "I was planning a triple funeral and how I was going to go about that on my own."
About three hours after learning her mum and brother had died, Lydia arrived at her father's bedside.
"They took me to critical care and that was the first time I saw my dad - with countless machines hooked up to him, a lot of doctors around his bed," she said.
"I remember thinking at that point in time that I was going to lose him as well because nobody could survive that state."
"I thought he was going to pass away that night."
"I knew there was nothing I could do to help my mum and Pierce as they had tragically passed away, so my sole focus at that moment in time was my dad, because he was the only thing I had left in life."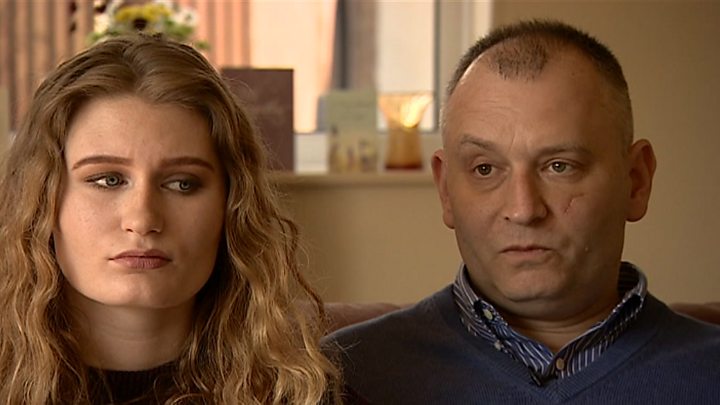 Lydia sat beside her father, who was under heavy sedation, holding his hand.
"I said that I was there and he opened his eyes and looked at me and then went back unconscious," she said.
"He woke up later on that evening."
"I started to hope that he was going to [pull through] because before that there was just no hope. I genuinely thought it was going to be just me," she said.
"And from that moment he started to come round."
Lydia, who has since continued her studies at Bristol, said she did not really talk to her father "about the outside world" until he came out of critical care.
"He didn't know I had been to the house [to lay flowers] and he didn't know that I identified the bodies of my mum and brother," she said.
Lydia paid tribute to her mother, who had first met Barley when he was living on the streets. She found him meals and accommodation and let him temporarily stay in their home.
"To have my best friend taken from me in life at such a young age is a hardship I would never wish on anyone," she said.
"Because it has to be the most awful experience. Especially when something happens… I can't ring her up any more."
After Barley admitted killing Pierce and Mrs Wilkinson, Lydia faced him in court.
Addressing the killer as he stood in the dock, she said: "My parents helped you - you repaid them with destruction and heartache.
"You have obliterated my life, murdered half my family, very nearly all of it, and for this I will never forgive you."