Pigeon's £43 taxi journey to wildlife sanctuary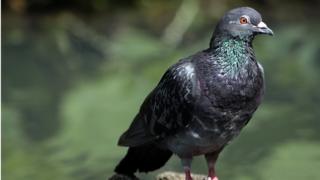 An injured pigeon was transported 25 miles to a wildlife centre in a taxi after a kind-hearted passer by spotted its plight.
Jeanette Bowron found the bird, which had an injured leg, being pecked by crows next to a busy Birmingham road.
After being taken to a vet, it was then sent on the £43 journey by cab.
Sanctuary owner Geoff Grewcock said the bird, now called Lucky, had a splint on its leg which should help it almost fully recover.
Midlands Live: Girl hit by train named; severe fire at factory
Ms Bowron said she was a "softy" for pets and animals.
She said she had spotted the bird being pecked by crows in Tyburn Road, Erdington, on Sunday and enlisted the help of a friend to catch it.
Ms Bowron put it in her garage overnight before taking it to the vet the next day.
The vet diagnosed a broken leg and suggested putting the bird down or taking it to Nuneaton and Warwickshire Wildlife Sanctuary.
'Deserve to live'
As she did not know the area and was due at work, Ms Bowron decided to call for a taxi.
"I can't believe other people wouldn't do the same," she said.
"I paid £43 for the trip, a £2 tip for the driver and £20 donation to the sanctuary for food for the bird."
"It's really kind of her, as we usually see animals that have been abused or that people don't want," Mr Grewcock said.
"People will say 'it's a pigeon, so what?', but that's not fair. All animals deserve to live."