Solihull councillor suspended in anti-Muslim tweet probe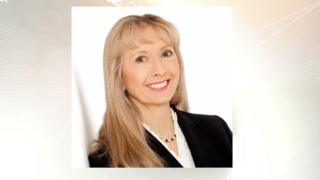 A Conservative councillor has been suspended by her party over anti-Muslim retweets - just two weeks after a colleague's suspension amid similar allegations.
Margaret Bassett, who represents Solihull council's Silhill ward, is being investigated after a complaint to the authority.
Jeff Potts was suspended from the council's Tory group in September.
Miss Bassett previously said it was an anti-Tory "witch hunt".
The complaint was over retweets that included newspaper stories about crimes said to be committed by Muslims.
Leader of the council and the Conservative group Bob Sleigh told a full council meeting on Tuesday evening he had taken appropriate action.
Mr Sleigh said: "We in the Conservative party have acted swiftly in this matter."
He said Miss Bassett's suspension from the Tory group came after reviewing evidence and looking at "exactly what was facing me and in front of me".
Miss Bassett previously told BBC WM: "The insinuation that I hold ugly views is someone trying to carry out a little witch hunt against the Conservative party locally."
She said people were "taking tweets out of context".