Height fright makes Birmingham moggy a 'pole cat'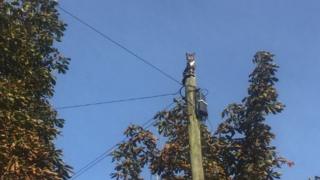 This is the moment when a cat's blue-sky thinking left it with nowhere else to run or hide.
The feline was stuck at the top of a telegraph pole in the Handsworth area of Birmingham, with crews called to the scene just before 10:00 BST on Thursday.
They were alerted by the RSPCA and used a ladder to reach the animal on Broughton Road.
The cat "clung on to the fireman's back all the way down the ladder".
An RSPCA spokesperson said the cat was "absolutely fine".
"He ran off into someone's garden as soon as he was on the ground so we can only presume he is home now."