Speeding driver reversed on M6 during police chase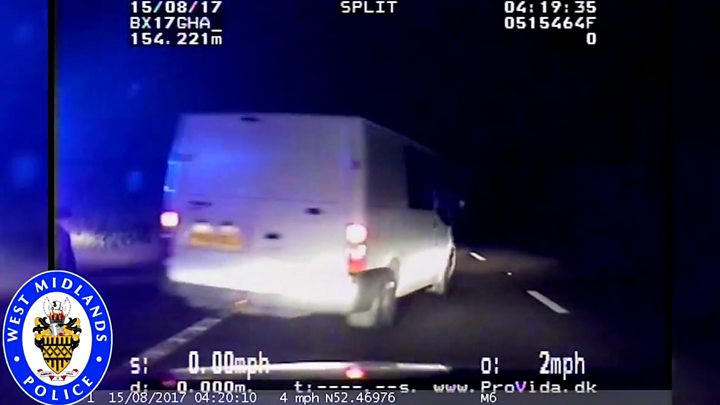 A man who led police on a 100mph chase on the M6, which also saw him reverse on the motorway to try to escape, has been jailed.
As police tried to box him in, Curtis Stewart drove up a grass verge before reversing onto the motorway near Castle Bromwich, West Midlands and escaping.
He then left the M6 and went through red lights at 70mph (112kmph), a police officer who pursued him said.
Stewart, 26, from Coventry, had previously admitted dangerous driving.
PC Mitch Darby, from Central Motorway Police Group, who was involved in the pursuit of Stewart, described his driving as "shocking."
'Appalling driving'
He said Stewart was first spotted driving through red traffic lights in Birmingham at 70mph before he got onto the M6.
"He drove up an embankment before temporarily reversing down the M6 and just missed a stinger when he exited the motorway," he said.
"He then drove the wrong way over a blind humpback bridge.
"It was his appalling driving that ultimately stopped him when he was boxed in after slowing for a corner."
Stewart was jailed at Warwick Crown Court for 23 months, after admitting two counts of dangerous driving on Wednesday.
The second charged was in relation to a second offence in June when he drove the wrong way round a roundabout in a Transit van and hit another vehicle.
He stopped to apologise and then left the scene, police said.