Man shot as Birmingham faces 'gun epidemic'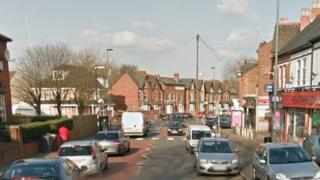 A man has been injured after a shooting outside a shop in Birmingham.
West Midlands Police said shots were fired from a car in Heathfield Road, Handsworth, before the driver made off towards Villa Road just after 01:00 BST.
A 19-year-old was taken to hospital and discharged after treatment to his hand and upper thigh.
Forensic investigations were carried out at the scene and CCTV is also being examined, the force said.
The shooting follows another a mile away in which the window of a house was "shot out" in the early hours of Friday, according to police.
Residents in Antrobus Road reported hearing three shots, but nobody was hurt.
Community activist Desmond Jaddoo said the city was facing a gun and knife crime "epidemic".
He said: "It just tells you what this city is facing, in terms of gun and knife crime, and the terror on these streets when someone gets shot at outside a supermarket, even at that time of the night.
"We've had two shootings, and a stabbing in the past 24 hours, and others anecdotally.
"I'm afraid what this city is facing is an epidemic of gun and knife crime."