Thousands take part in Birmingham Marathon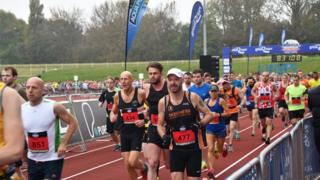 Thousands of runners took to the streets of Birmingham for the city's first marathon in more than 30 years.
A combined 22,000 people were completing the Birmingham International Marathon and half marathon on Sunday.
It is the first 26.2-mile event in the city since the People's Marathon, which was held between 1980 and 1985.
The first runner over the line was Chris Ashford, from Harborne, Birmingham, who finished in just over two and a half hours.
Marathon runners started from Alexander Stadium, the home of British Athletics, before finishing in the city centre.
Mr Ashford said he was pleased to win in his hometown, in a time of 2:33:55.
He said: "To win at my home competition is absolutely fantastic. The crowd has been fantastic support.
"I've done the half marathon the last couple of years so to win the first Birmingham International Marathon, I'm so pleased."