Birmingham pub bombings: Families to challenge inquest ruling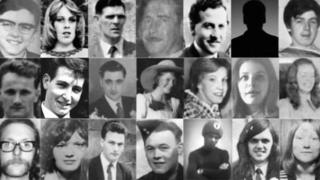 Families of victims of the Birmingham pub bombings have been granted permission to challenge a coroner who ruled out naming alleged suspects during inquests into the tragedy.
Several relatives said they would not attend the inquests following coroner Sir Peter Thornton QC's decision.
A law firm, representing 10 families, said the scope of the inquests could be widened.
Two bombs were detonated in the city in 1974 killing 21 people.
Anurag Deb, from the firm KRW Law, said the review was an "important achievement in the ongoing quest for truth, justice and accountability for our clients".
On the night of November 21 1974, the IRA planted two bombs which ripped through the Tavern in the Town and nearby Mulberry Bush pubs, killing 21 people and injuring 220.
The victims' families have fought for years to have the inquests reopened. Hearings were held days after the bombings but closed without hearing any evidence.
No one has been charged with the attacks since six men were freed from prison in 1991.
The families were "devastated" when Sir Peter ruled out naming the IRA suspects believed to be behind the attack.
Justice4the21, the main campaign group representing many of the relatives, said it would "no longer participate" in the hearings following the decision.
The group are also asking Irish police to interview self-confessed IRA bomber Michael Hayes.
Mr Hayes, 69, recently told a BBC interview that he accepted "collective responsibility" for the bombing but did not know who planted the devices.
A review of the inquest ruling will be heard after 27 November.
Amendment 14 March 2019: This story has been updated to reflect the most recent information that 220 people were injured in the blasts.