Birmingham parking so poor it 'looks like a crash'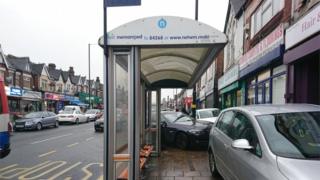 You wait all day for a car to park under a bus stop - and then three turn up there all at once.
An image of the overcrowded pavement was shared by police in Birmingham who are targeting poor parking in the city.
According to a tweet from traffic officers, the cars were parked so badly on Washwood Heath Road on Thursday, onlookers could have been forgiven for thinking there was a crash.
Police said the positioning of one of the cars was "dangerous".
The driver of the "dangerously" parked car, a black BMW that was half on the pavement, half on the road, faces three points and a fine, said the West Midlands force's traffic division.
The registered keepers of the two others have been reported for wilful obstruction.
The force is due to launch a campaign cracking down on poor parking in Birmingham next month.