Man arrested in Birmingham for kicking woman in head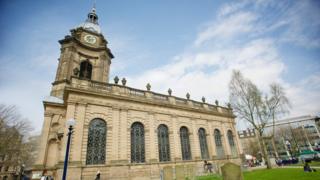 A 45-year-old man has been arrested four days after footage of a woman being kicked in the head was shared widely on social media.
The footage, from 17 October, shows a woman who had already been lying on the ground in Handsworth, Birmingham, before being kicked in the head by a man who then walked away.
Police arrested a man in Birmingham city centre on Saturday.
He has been arrested on suspicion of assault and is in police custody.
Insp Ifty Ahmed, from West Midlands Police, said: "The woman was lying motionless on the floor and clearly in need of help - yet a passer-by inexplicably walked past and kicked her forcefully in the head.
"Efforts are ongoing to try and trace the victim, to ensure she is okay and to offer any support she may need."