Argos Baby Born doll 'taught my daughter to swear'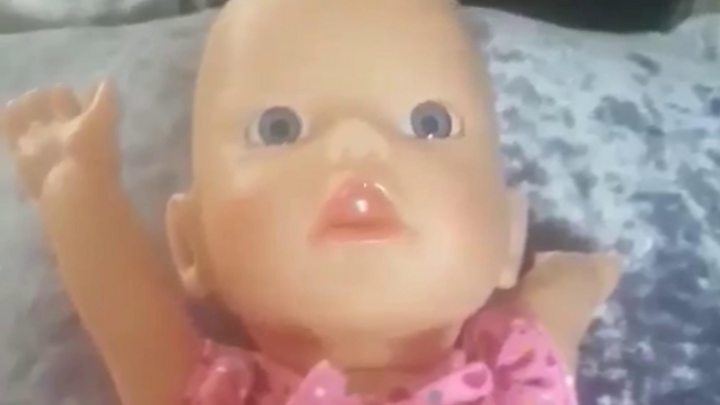 A mother says her two-year-old daughter has been taught to swear by doll bought from Argos that appears to use a rude word.
Rachael Horton, 28, said the toy was meant to say "mama" and "papa" but instead appears to say "bitch".
She wants My Little Baby Born Walks, which is sold by several retailers, to be withdrawn from sale.
Argos said it would be apologising to Ms Horton, adding it had contacted the manufacturer which is based in Germany.
Midlands Live: Man charged over bowling alley armed siege.
The doll was bought from a branch in Chelmsley Wood, Solihull, for daughter Aria who turned two on 17 October.
Miss Horton said the issue came to light as soon as the box was opened by her mother.
Aria, she said, had since repeated the word "once or twice".
Toy returned
"[Aria is] copying what people are saying and she does try to talk.
"It's bad because if I left her with the doll long enough, she would be left with the word.
"[The dolls' sound] should be checked before they come out."
Miss Horton is not the only buyer to have been left frustrated.
According to customer feedback on the product's page on the Argos website, concern over "swearing" led to one toy being returned.
Miss Horton said after making a complaint she had been contacted via the Baby Born Facebook page which, she said, told her the doll was saying "jippih" [yippee].
Babble sounds
The doll's German manufacturer Zapf Creation said: "Our BABY born products are created to be a fun introduction to imaginative parent-child play.
"The My Little BABY born Walks doll includes baby babble sounds that are in no way meant to represent language or cause any offence to users."
An Argos spokesperson said: "We have shared the customer's feedback with the manufacturer and are contacting her to apologise for any offence this may have caused.
"We'll also arrange an appropriate replacement doll for her daughter."