Birmingham company fined over machine crush death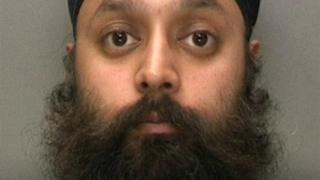 A company and its director have been fined over the death of a worker who fell into a waste-sorting machine.
Safi Qais Khan, 29, died at Master Construction Products (Skips) Ltd (MCPS) in Birmingham in January 2015.
The machine was found to be in a dangerous state, with no emergency stop button or guards to prevent entrapment.
MCPS admitted corporate manslaughter and was fined £255,000. Company boss Jagbir Singh was ordered to pay an additional fine of £11,500.
Singh, 37, pleaded guilty to a health and safety offence.
He admitted the company, based off Pentos Drive, Tyseley, had failed to ensure sufficient measures were in place to minimise risk to workers operating the machine.
Mr Khan, originally from Afghanistan, is thought to have been on top of the device, known as a trommel, clearing debris before he died.
It is not known what caused him to fall in.
'Little thought' for safety
Singh, who has been disqualified as a company director for eight years, was sentenced at Birmingham Crown Court to 12 months in prison, suspended for two years, and 300 hours of community service.
Police said the company had ignored several safety warnings - including a letter sent by a health and safety consultant back in 2009.
Michael Gregory, from the Crown Prosecution Service, said: "Little thought was given by the company to the safety of its employees.
"Senior leaders' management of the machinery played a substantial part in Mr Khan's death."
Det Con Mark Harrison said: "This terrible tragedy is made so much worse by the fact it could have been avoided.
"It was almost inevitable that somebody was going to be seriously injured or killed, given that the company prioritised cost-cutting over safety.
"A culture of negligence resulted in this sad loss of life."