Betty Boylan care home abuse: Worker's neglect sentence quashed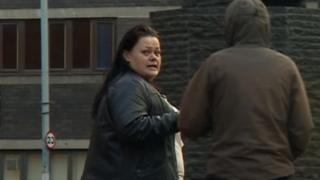 A care worker who was filmed spraying deodorant into the face of a 78-year-old woman with dementia has been cleared of wilful neglect on appeal.
Susan Draper was shown spraying Betty Boylan with Impulse body spray about 1ft (30cm) from her face at Bupa's Perry Locks home in Birmingham.
Ms Draper, 44, of Cranehouse Road, Kingstanding, was given a four-week jail term in July.
However, a judge at Birmingham Crown Court quashed the conviction.
'Not best practice'
Recorder Anupama Thomson ruled that however ill-advised Ms Draper's actions were, she was not guilty of neglect.
She said Ms Draper was trying to care for Mrs Boylan. While it may have not been "best practice" to spray her in the face, she could not be satisfied that amounted to wilful neglect.
Mrs Boylan's daughter Bernadette Jarvis said she was "disgusted" with the verdict.
"I have no faith in the justice system," she said.
Another carer, Bina Begum, 49, was given a 12-month community order in February after admitting ill treating and neglecting Mrs Boylan.