Julie Walters named Dame Commander by the Queen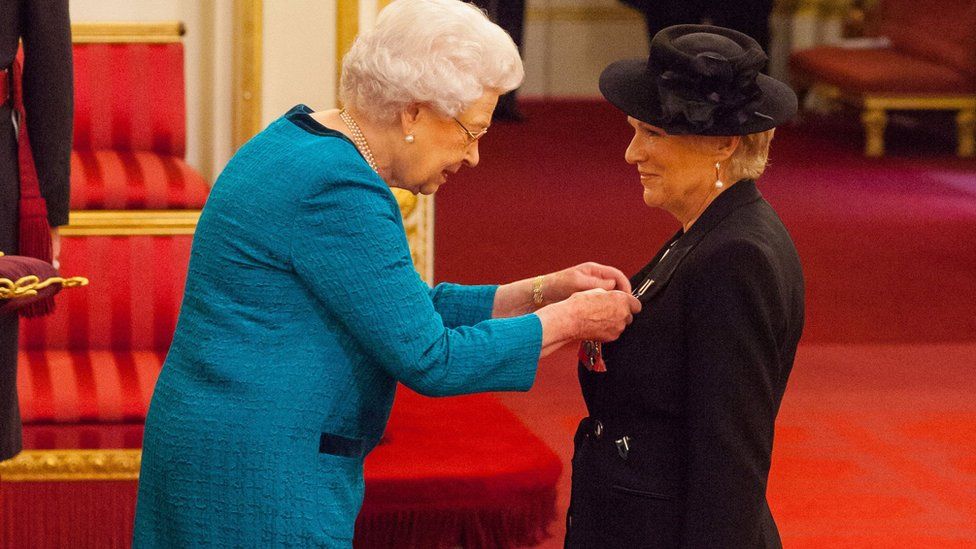 Actress Julie Walters has been made a dame by the Queen in a ceremony at Buckingham Palace.
The Bafta-winning star was named Dame Commander of the British Empire for services to drama.
Dame Julie, 67, has starred in Billy Elliot, Mamma Mia!, Calendar Girls and the Harry Potter films.
She described receiving the honour, almost 35 years after her breakout role in Educating Rita, as "fantastic", adding: "It's not really real."
Dame Julie, who said she "weeded the garden" in celebration at the news, said: "It was slightly nerve-wracking, 'when do I curtsey?' But everyone is the same.
"It's one of those things where you feel relieved [when you've done it], then you look back and think 'how fabulous'.
"I thought 'I wish my parents were here'."
The star, originally from Smethwick, West Midlands, said she was given special dispensation for a day off from shooting the Mamma Mia! sequel to go to the palace, adding the experience was "numbing".
"The Queen said 'It's so marvellous that you've got this, I'm so pleased' and 'How long have you been doing acting?'
"I said '43 years' and she said 'In so many different things, well done."'
Comparing it to accolades awarded during her career, she added: "It's a different thing, it's the Government and the Queen, it's just a very different feel.
"It's a lovely thing, I can't explain it. The Baftas are fantastic and really important but it is about the business, and this is too but it's also about the country so it's special in that sense."
Related Internet Links
The BBC is not responsible for the content of external sites.