Firework fire in Birmingham home: Man dies five days after attack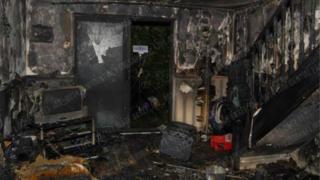 A man has died five days after a 200-shot commercial firework was let off inside his Birmingham home.
Anthony Nicholls, 56, had been in an induced coma since the attack at 23:00 GMT on Thursday, police said.
His 50-year-old wife suffered lower leg fractures when she jumped from a first-floor window of their Tile Cross home. She remains in hospital.
Detectives said Mr Nicholls' death "means that we are now treating this as a murder inquiry".
'Terrifying impact'
Police said a large "commercial-sized firework" was placed in the house on Birchtrees Drive and set alight.
It is thought to have contained 200 tubes of explosives and would have taken about two minutes to fully discharge.
Det Insp Paul Joyce said: "The impact would have been terrifying for the occupants and I would urge anyone who sold or is missing a firework of this size to get in touch.
"This would have been a large heavy firework that would have been difficult to carry some distance, so I would ask anyone who saw someone carrying a large box in the area last Thursday night to contact us."
Officers are also checking CCTV pictures and have asked people in the area who have home cameras to make their footage available.