Birmingham bin strike 'cost £6m'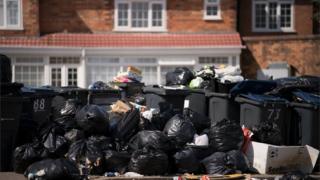 The three-month Birmingham bin workers strike has cost £6m, the council says.
The strike was suspended in September after the High Court granted an interim injunction against the authority's bid to make workers redundant.
A trial is to take place to determine if Birmingham City Council was unlawful in issuing redundancy notices.
Council leader Ian Ward said talks with unions "have been moving forward positively" and it was in "no-one's interest to be going to court".
He added there would be council and union costs and said it wanted to "avoid that".
Ahead of the trial, which is due to take place on 27 November, he said it was discussing with Unite and Unison via conciliation service Acas.
Asked if extra agency crews were still being used, after they worked before, and how much was that costing, Mr Ward said: "We don't have any agency crews any longer.
"The cost of the dispute, yes that's cost in excess of £6m, so that's been very, very expensive and obviously again we don't want to repeat that, because it's not good value for the taxpayer."
He said it was "now at the point where the city council needs to bring forward a proposition".
Mr Ward added: "We need to then discuss that with both of the unions and arrive at a point where they feel they are able to put that offer to their members and we've got to get to a point where we are in a position to resolve this dispute."