Himley Hall could be sold off by Dudley Council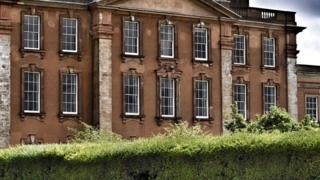 Part of the historic Himley Hall estate in the West Midlands may be sold off by a council.
Dudley Council said it was "working within an unprecedented financial context".
The authority is looking at all of its assets, including the grade II listed hall in Himley.
The estate, a popular wedding venue, includes a golf course, cafe, car park and outbuildings, the Express & Star reported.
It is the former home of the Lords of Dudley, while its gardens were landscaped by Lancelot 'Capability' Brown.
A brief history of Himley Hall
For four centuries, the original Himley Hall was the home of the Lords of Dudley and their knights
In 1645, King Charles 1 encamped in the grounds on his way to the Battle of Naseby
Himley Hall became the family home of the Ward family, who had previously occupied Dudley Castle
In 1740, John Ward inherited the Himley Estates around the time he was elected as an MP. He had his home demolished and a replacement built
During the early 20th Century, Himley was often used as a weekend retreat by members of the Royal Family
The estate was purchased by Dudley and Wolverhampton district councils and the park opened up to the public. Dudley bought Wolverhampton's share in 1988.
Source: www.himleyhallandpark.co.uk
'Jewel in the crown'
The council's corporate estate strategy draft said: "A substantial corporate financial shortfall has been projected of some £23m by 2020."
Councillor Ian Kettle, cabinet member for planning and economic development, said the authority wanted to "make the most of every single one of our sites".
But he said: "The Himley estate comprises a wide range of buildings and green spaces and these will be looked at as part of the strategy, although I think it would be unlikely that such a jewel in the crown would leave council ownership."
Himley Hall served as a home to the Lords of Dudley and following damage to Dudley Castle during the Civil War, the site became the principal family home.
A council report said the aim of the strategy was "to proactively manage" the authority's assets and "generate ongoing savings and/or new revenue income".