Man, 87, critical after 'vicious attack' in Sutton Coldfield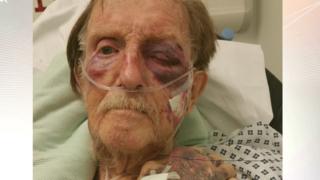 An 87-year-old man is in a critical condition in hospital two weeks after a "vicious attack" in his home.
Arthur "Bob" Gumbley, was found on the floor at the property in Endwood Drive, Sutton Coldfield, on 21 November.
Two attackers punched him in the face and kicked him on the floor before stealing items, including a purse that belonged to his late wife, police said.
Det Insp John Quilty said: "Despite initially showing signs of recovery, his condition has now worsened."
Staffordshire Police added his condition was "potentially life threatening".
Midlands Live: Boy stabbed; Row over station opening delay
Mr Quilty said the pensioner had suffered "terrible injuries".
"This was a despicable and cowardly attack on a defenceless, elderly man in his own home," he said.
Mr Gumbley was attacked between 19:00 GMT and 21:00 GMT. The suspects were both white, one in his late teens and the other in his mid 20s.
One is described as tall and stocky and the other as smaller in height.
A family member said: "This has totally devastated the whole family and we still can't understand how anyone could do something so wicked and evil to an innocent old man.
"We are heartbroken and angry that anyone could do this to our dad."
Anyone with information about the attack was urged to call Staffordshire Police or Crimestoppers.