Knuckleduster knife man tussles with police officer at The Hawthorns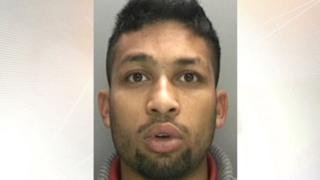 A man has been imprisoned after a struggle with a police officer over a knuckleduster.
Nabil Barbhuiya was found in possession of an 8in blade with a knuckleduster handle at The Hawthorns station, near West Bromwich, in October 2016.
Police said a struggle after Barbhuiya, 20, from Whitstable, Kent, resisted arrest led to him and an officer falling down two flights of stairs.
Barbhuiya was sentenced to nine months in a young offenders institution.
Midlands Live: Coventry celebrates being named UK City of Culture in 2021; more than 350 schools closed due to weather
He pleaded guilty to possession of a knife and obstructing a constable.
Police say the officer involved had to take time off work to recover from his injuries, but the consequences "could have been a lot worse".