Tipton couple jailed for causing severe injury to baby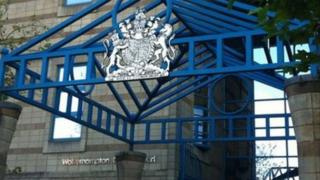 The parents of a baby girl have been jailed for assaulting her so badly that she was left severely brain damaged.
The man and woman, from Tipton in the West Midlands, were sentenced to 14 years and three years respectively, at Wolverhampton Crown Court earlier.
The baby was a few weeks old in February 2016 when she was shaken so violently she fell unconscious.
Police officers said the girl would require special needs care for the rest of her life.
'Terribly sad case'
The court heard the baby had been rushed to hospital after the assault where she spent six days in intensive care.
When doctors examined her, they found injuries to her brain, a fractured rib and extensive bruising.
There was also evidence of previous injuries including fractures to another rib and her collarbone, as well as a previous head injury.
The child's father, who has not been named to protect his daughter's identity, was jailed for 14 years after being found guilty of two counts of causing grievous bodily harm.
The mother had denied knowing how the little girl came by her injuries, but she was sentenced to three years in prison for the same charges.
Det Con Kim Savage, from West Midlands Police, said: "This is a terribly sad case where a young girl was born with absolutely nothing wrong with her.
"She had her whole life in front of her, yet this abuse has left her with lifelong injuries, many of which she will never recover from."
She said the girl had been left with impaired vision in both eyes and epilepsy.
"She is unable to walk, talk or feed herself due to very little limb control, meaning she will require special needs care for the rest of her life," she said.