Himley Hall to remain under Dudley Council in new plans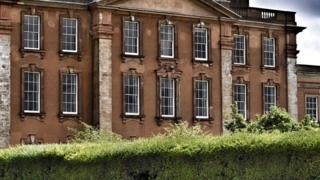 Historic Himley Hall has escaped a sell-off by a council that says it will look instead to maximise the potential of assets.
Selling the grade II listed site in Dudley - part of the Himley Hall estate - had been floated as part of Dudley Council's savings plans.
But cabinet voted to approve a new five-year plan to bolster the money-maker dubbed a "jewel in the crown".
The authority needs to save £5.6m in the next three years.
Midlands Live: More than 900 homes and businesses without power; more than 350 schools closed due to the weather
Councillor Ian Kettle, cabinet member for regeneration, said: "It is true that we will be looking at possible ways of reducing our costs.
"But the review will also - and this is very important when we are talking about Himley Hall - look at ways of maximising the potential of our assets.
"It is already a very popular venue for weddings and conferences and brings in money for the authority.
"Coupled with its undoubted historical value, for me that very much makes it a jewel in the crown for this authority."