'Lenient' jail term stands for man who hurt paramedic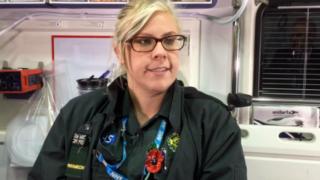 A man who broke the wrist of a paramedic while she treated him will not be given a stiffer jail sentence, said ambulance chiefs who had challenged his suspended term.
Adam George James, 23, was given a 14-month custodial sentence, suspended for two years, having admitted the attack on Amy Holtom of West Midlands Ambulance Service.
She said the term was "appalling" and bosses called for a review.
But they said the sentence would stand.
West Midlands Ambulance Service Trust complained the sentence was "lenient" and sent its request for a review to the attorney general, who, the trust said, had responded.
A spokesperson for the service said: "Unfortunately, the trust was informed that the charges against Mr James - actual bodily harm and common assault - cannot be reviewed by the Court of Appeal as they are not charges that are on the list of offences that can be referred."
Ms Holtom and another paramedic were attacked after they were called to help James, of Housley Close, Wigan, when he was found unconscious in Birmingham city centre in July 2016.
James, who was sentenced in September, struck them with steel-toe footwear, leaving both in need of hospital treatment and sick leave.