Phone theft police probe man's selfies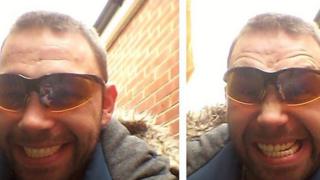 Police investigating the theft of a mobile phone want to identify a man who used it to take selfies that later appeared in the victim's Cloud account.
The phone, which belonged to a 59-year-old woman, was stolen from a car on Saxon Wood Road in Shirley, Solihull, some time between 20 and 22 November.
Police said within days the woman noticed images of a stranger in content stored on the Google Cloud platform.
Officers say they want to talk to him "about the theft".