Arthur 'Bob' Gumbley dies after 'vicious' attack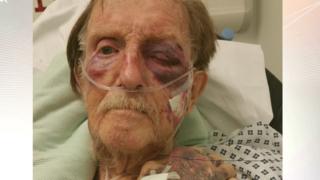 An elderly man who was "viciously" beaten and robbed in his own home has died.
Arthur 'Bob' Gumbley, aged 87, was found lying on the floor at his home in Endwood Drive, Sutton Coldfield, on the evening of November 21.
He died in hospital on Monday after his condition worsened. He was being treated for injuries to his chest, neck, arms and face.
Four people have been arrested over the murder.
Midlands Live: Surgeon admits marking his initials on patients' livers; Prison drones smuggling gang jailed
Two men, 42 and 34, and two women, 33 and 29, from Birmingham have been arrested in the last 24 hours, and remain in custody.
The robbery is believed to have taken place between 19:00 and 21:00 GMT as thieves stole jewellery and cash, as well as a purse that belonged to Arthur's late wife.
Det Insp Dan Ison, said: "This was an horrific and despicable attack on a defenceless elderly man in his own home."
"Crimes of this nature cannot go unpunished, and I want to reassure Arthur's family that every effort is now being made to bring those responsible to justice."
"I am appealing for the support of the public to assist us in bringing those responsible to justice. Therefore, I make a plea to any person who may have any information, or who may be a witness to this terrible incident, to please make contact with us.