Car theft 'relay' devices seized in Birmingham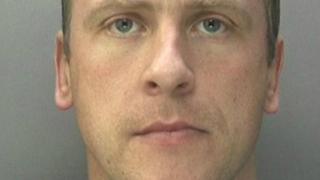 Police have seized car theft "relay" devices in what they believe is a first for a UK force.
It comes after CCTV footage issued last month showed thieves in Solihull using a device - that tricks a car into thinking the key is present - to steal a Mercedes in less than a minute.
West Midlands Police said equipment, not thought to be used in the theft, was recovered from a car.
The seizure led to Martynas Auga, from Merseyside, being jailed on Monday.
Birmingham Crown Court heard officers began pursuing Auga's Peugeot on Landor Street in the city centre in the early hours of 2 November, but had to give up for safety reasons.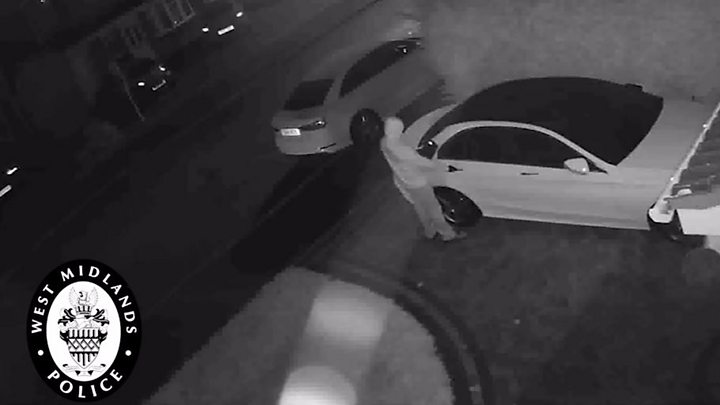 They subsequently found it abandoned nearby and discovered the relay equipment, along with two sets of number plates, two mobile phones and a bag of tools inside, the force said.
PC Mitch Darby, who was involved in pursuing Auga's Peugeot, said: "This is certainly the first relay device recovered in the Midlands and I'm not aware of any others recovered nationally."
Auga was jailed for 18 months after admitting going equipped to steal, dangerous driving, driving without a licence and failing to stop.
The 32-year-old from Sefton Street, Southport, was also banned from driving for 18 months.
Auga declined to answer police questions about whether he was involved in the keyless theft of cars, police said.
In the CCTV footage of the Solihull theft, one of the men can be seen waving a box in front of the victim's house.
The device receives a signal from the key inside and transmits it to the second box next to the car.
The car's systems are then tricked into thinking the key is present and it unlocks, before the ignition can be started.
Drivers are advised to use a Thatcham-approved steering lock to cover the entire steering wheel or put keys inside an RFID signal blocking bag, which stop the signals from the key being transmitted.