Jailed Smethwick drug dealer 'jumped naked' from window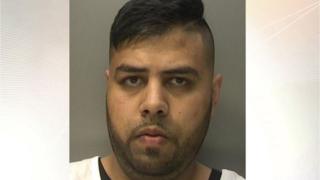 A Black Country drug dealer has been jailed for 20 years after he was found with drugs and firearms.
Mohammed Asif, 30, jumped naked from a first-floor window at his home in Queens Road, Smethwick, in an escape attempt during a police raid in May.
Police say he was detained at the scene where Class A drugs, ammunition, firearms and cash were found.
Asif was jailed for 20 years and 10 months at Wolverhampton Crown Court on Thursday, police said.
The force said he pleaded guilty to possession of drugs with intent to supply and possession of firearms and ammunition.
West Midlands Police recovered eight firearms, including a shotgun, a revolver and a pistol, 200 rounds of ammunition, £50,000 in cash as well as a large amount of heroin worth more than £1.7m.
Det Con Victoria Brown said: "Asif was so desperate to avoid being caught that he was prepared to jump from a first floor window with no clothes on.
"He was also caught with his pants down at court as the weight of evidence against him led to a lengthy jail term."