Man jailed for drone drug-drop into HMP Birmingham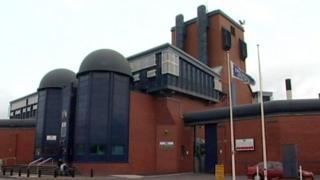 A man who flew drones carrying cannabis, psychoactive drugs, mobile phones and other items into prison grounds has been jailed.
Michael Tovey, 28, of Lakes Road in Witton, Erdington, was found guilty of using two drones to fly contraband into HMP Birmingham in 2016.
He was jailed for five years at Birmingham Crown Court on Tuesday.
Prison officers saw a drone flying into the exercise yard on two occasions, the Crown Prosecution Service (CPS) said.
"Data analysis of previous flights made by both drones revealed they had been flown from or near to Michael Tovey's home address in Erdington," the CPS said.
As well as drugs with a street value of £35,000, the drones carried needles, SIM cards and phone chargers.
A bag found on the drone seen flying over the prison walls on 29 October, 2016, was forensically tested.
Edward Parton, senior crown prosecutor at West Midlands CPS, said: "The prosecution team were able to use data analysis and forensic testing of the bag to link the drones to Michael Tovey.
"The defendant had previously been an inmate at HMP Birmingham and was trying to smuggle illegal items to an associate."
Tovey was convicted of seven charges of conveying prohibited items, of category A and B into a prison, as well as six charges of supplying a psychoactive substance.