James Barnes killed his wife and himself over marriage woes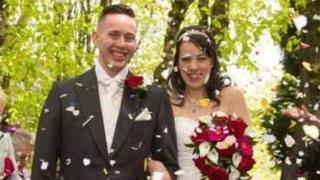 A man murdered his wife while she slept before setting himself on fire after she told him she wanted a divorce.
James Barnes, who was depressed due to his troubled marriage and a dispute between their families, plunged a knife into wife Amy's neck at their home in Birmingham in September.
An inquest into his death heard he later bought petrol from a garage and killed himself in his parents' garden.
He left notes, one saying: "I just can't fight on any more."
The couple had been attending marriage guidance sessions but during a weekend away to Brighton a week before their deaths, Mrs Barnes told her husband it was over and she wanted a divorce.
Mr Barnes' family - his father Robert and brother Christopher - told the inquest the family dispute had also led to him being "ostracised" by his wife's family and even his wife had stopped talking to him.
He was "alone and in a dark place before he died", Christopher Barnes said.
"The person that did this isn't a person we recognise... it's so out of character," he added.
Birmingham Coroner's Court heard that Mrs Barnes returned home after a night shift as neo-natal nursery nurse on 25 September.
Her husband was at the home and spoke to his family at about 11:00 BST telling them his wife was asleep.
She received a text from a friend at 09:50 BST which was never read, the inquest heard.
Mr Barnes was then seen on CCTV cameras buying petrol at a garage at about 14:30 and texted his brother Christopher some hours later, at about 23:00, apologising for "letting him down" adding "I'm going for a long sleep. Take care."
Knowing that he had been "hysterical" just two days earlier, his family urged Mrs Barnes' mother to check on her daughter at the couple's home in Cofton Park Close in Rednal.
Christopher Barnes was so concerned he drove to his parents' house and climbed over the side gate where he saw a fire in the rear of the garden and then his brother's body.
Amy Barnes was found by her mother murdered in bed. The blade of the knife was still in her neck.
Officers found the handle in a bin bag at the home, Det Insp Caroline Corfield told the hearing.
A blue notebook "filled with handwritten notes" about the breakdown of their relationship was found on the bed.
The first line read: "Where do I even begin... through this pain and agony this past week has been a nightmare."
Mr Barnes suffered 97% burns after going outside to the patio at his parents' house Linforth Drive, Streetly, just before midnight, and pouring petrol on himself and lighting a match.
Coroner Louise Hunt said he unlawfully killed his wife and recorded a verdict of suicide.