Birmingham carjacking pair jailed for female driver attacks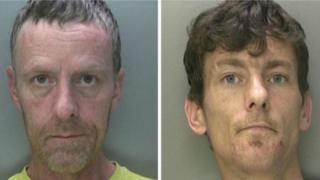 Two men have been jailed - one for ten years - for carrying out "terrifying" carjacking attacks on female drivers.
Stephen Hemming, 51, admitted breaking one driver's nose and holding a knife to her throat after climbing into her BMW in a car park on 23 May.
Hemming was jailed for 10 years for robbery at Birmingham Crown Court.
Kevin Rourke, 35, was jailed for 57 months for accompanying Hemming on a second attack. The attacks took place in Birmingham's Jewellery Quarter.
'Danger to women drivers'
Both men, of Stafford Road, in Handsworth, admitted opening the driver and passenger door of a Mercedes at around 19:40 BST on 29 May in Fleet Street and threatening to stab the 39-year-old female driver.
Midlands Live: Step-father jailed over child's water park drowning; Birmingham set to get 2022 Commonwealth Games
One of the men punched her and dragged her out of the car before driving away.
Hemming was sentenced to 54 months, to run concurrently, for the Fleet Street attack.
Det Con Nick McCulloch of West Midlands Police said: "These men deliberately targeted the women and terrified them with violence.
"In the case of the first woman, Stephen Hemming inflicted serious injuries and the two women were left traumatised by their ordeals.
"Both men represented a huge danger to women drivers and it is good to know that they will be behind bars for a long time."