Christmas dinners saved in Birmingham van fire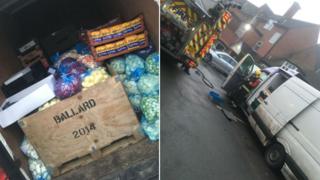 Most people only have to worry about burning one Christmas dinner but a hotel faced losing 800 when a van carrying a mound of sprouts and other trimmings caught fire.
A pile of potatoes nearly had its chips when the blaze broke out in the engine of the vehicle on its way to the site.
Christmas was saved by the arrival of firefighters who tweeted they had prevented "dinner from burning".
The hotel in Birmingham offered "massive praise" for their help.
Sam Goss, general manager at Moor Hall Hotel in Sutton Coldfield, said the hotel was hosting a range of events over the festive weekend which would see around 400 guests dining on Christmas Day and a further 400 attending functions.
He said: "I'm thankful no one was hurt and give massive praise to the fire brigade for putting out the fire."
West Midlands Fire Service said it received a call at about 08:00 GMT.
Firefighter Tony Williamson said "quick action" saved the festive feasts.