Birmingham Crash: Hundreds attend taxi driver's funeral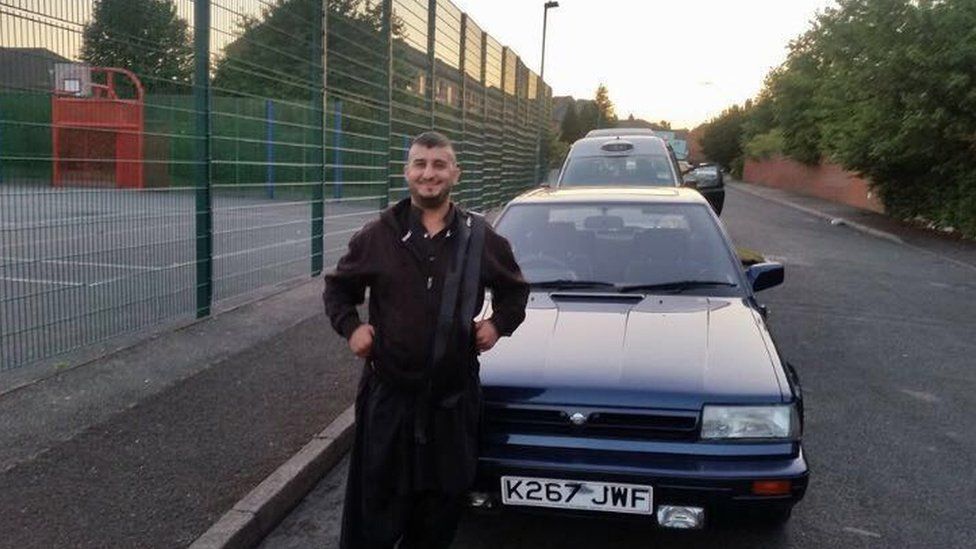 The funeral has been held for a taxi driver who was one of six people killed in a crash in Birmingham.
Imtiaz Mohammed had called his wife to say he was on his last job of the night shortly before the six-vehicle crash on Lee Bank Middleway on Sunday.
Hundreds gathered to celebrate his life in what was described as a "peaceful and sobering service" at the Central Mosque.
The mosque is just a few hundred yards from the scene of the accident.
Mr Mohammed, 33, had six children aged under 15. His death came the day before his daughter's fourth birthday.
After the funeral and burial, mosque chairman Muhammad Afzal said: "Hundreds of people attended and we prayed both for the assembly and for Imtiaz, may he rest in peace.
"People are very upset because in Birmingham this was the worst road accident we've had for many years.
"A lot of people are asking for some review of the speed limits and what safety measures can be put in place on the road, so that this does not happen again."
The taxi driver's father, Ikhtiar Mohammed, said: "This is a tragedy, a tragic accident.
"I am sorry for my son who has lost his life and I am sorry for the others who have also lost human beings, like us.
"God bless them, and God bless my son."
The two passengers in the taxi, 43-year-old Lucy Davis, from Kingstanding in Birmingham, and 42-year-old Lee Jenkins, who worked at University Hospitals Birmingham, also died.
Kasar Jehangir, 25, Tauqeer Hussain, 26, and 30-year-old Mohammed Fahsha were killed when the Audi they were travelling in collided with the taxi.
A 22-year-old friend, also a passenger in the car, is in a serious condition in hospital.
It will be delivered to Birmingham City Council, calling for speed cameras in the underpass close to where the crash happened and for barriers to be placed along the dual carriageway.
The council said it will look into the petition, but said before Sunday, there had only been one serious accident in the last three years on the road.
A police investigation into the crash is continuing.
Related Internet Links
The BBC is not responsible for the content of external sites.